truesinus®:
Kompakt und kraftvoll – die BAUR truesinus® Spannungsquellen
Die BAUR-truesinus®-Spannungsquellen sind handlich und eignen sich für alle relevanten täglichen Aufgaben – ob Kabelprüfung oder Diagnose. Sie sorgen für höchst zuverlässige Ergebnisse und bieten dank der von BAUR entwickelten truesinus®-Technologie eine ideal geformte, niederfrequente Sinusspannung sowie die für die Mantelprüfung erforderliche Gleichspannung:
Höchst genaue tan-δ-Messung
Dank des ideal geformten truesinus® können Sie sich auf eine äußerst präzise Messung des tan δ (Tangens delta oder TD), aussagekräftige Ergebnisse bei der Teilentladungsmessung sowie auf eine gute Reproduzierbarkeit und Vergleichbarkeit der Messwerte verlassen.
Das spricht für die truesinus®-Technologie
Für die zur Zustandsbewertung wichtige tan-δ-Messung ist die VLF-0,1-Hz-Sinusspannung deutlich besser geeignet als andere übliche Spannungsformen oder Frequenzen. Der ideale, langwellige Sinus ermöglicht höchst
auflösende TD-Messergebnisse. Mit diesen Ergebnissen können kleine Anstiege und Detailverhalten erkannt und bewertet werden. Bzgl. der Verlustfaktormessung ist die Messung mit truesinus® sensibler als eine Messung bei Betriebsfrequenz.
Die Vorteile des truesinus®
Lastunabhängige Messergebnisse
Höchste Tangens-delta-Genauigkeit
Reproduzierbare, präzise Messungen
Prüfung und Diagnosemessungen parallel möglich (Monitored Withstand Test)
Kurze Messdauer
Kompakte Spannungsquellen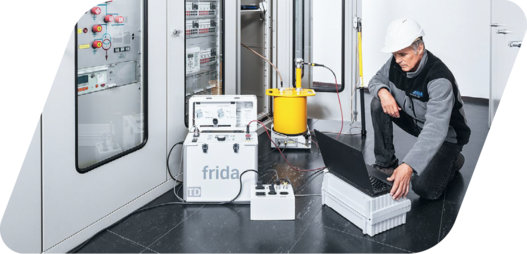 Weiterführende Themen zu Kabelprüfung und Diagnose:
home of diagnostics
Unvergleichliche Mess- und Prüf-Kompetenz unter einem Dach
Im BAUR "home of diagnostics" kann sich jeder Messtechniker und Asset Manager beim Ziel, Reparaturen vorausschauend und kostenoptimiert zu planen, so sicher fühlen wie nie zuvor.
Normgerecht und aussagekräftig
Auszug aus Normen
Die Kabel- und Mantelprüfung sowie Diagnosemessungen mit VLF-Spannung erfolgen normkonform. Basierend auf internationaler Forschung sowie jahrzehntelanger Erfahrung in der Praxis führen heute alle wichtigen Gremien und Verbände die VLF-Kabelprüfung und Diagnose an Mittelspannungskabeln als anerkannte Methode.