14-15 May 2014
User convention in Aachen
Almost 40 interested operators and students were introduced to the latest diagnostics procedures for medium- and high-voltage cables. The participants were able to experience the processes and their uses live at the IFHT test centre.
Partial discharge measurements with phase resolving for fault interpretation using VLF 0.1 Hz
DAC (Damped AC), PD diagnostic testing on medium and high-voltage cable systems
Tan δ diagnostic testing using MWT (Monitored Withstand Test) as a time optimised test
Online PD diagnostic testing with precise spatial resolution and measurements at high noise levels.


A tour of the IFHT test centre gave an insight into future network structures, including new components and their behaviour within the network. Research is also being conducted on new components in terms of damaged mains operation and interactions between the network, electric vehicles, battery storage and innovative components.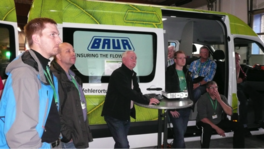 13-16 January 2014
Delivery of 2 vehicles to Syna GmbH
From 13.01.2014 to 16.01.2014 at the BAUR main plant in Sulz/Austria, the second cable test van was handed over to Syna GmbH based in Frankfurt/Main. The vehicles are stationed at Hofheim near Frankfurt and Pleidelsheim and are equipped with the latest systems for cable fault location, cable testing and cable diagnostics. For quick troubleshooting and for implementation of future maintenance strategies, they are adding to the already existing vehicles at Runkel and Neuwied.

"The deciding factor for choosing this cable test van system from Baur Prüf- und Messtechnik was firstly the reliability and the high quality standard of the measurement technology and the vehicle setup. Second was the future use of BAUR cable diagnostic systems that is becoming more and more important to be able to continue guaranteeing reliable power supply to our customers." said Dipl.- Ing. Albrecht Graf, Director Asset Service, (MS/NS/Gas).
Having chosen these vehicles, Syna GmbH now exclusively has cable test vans from the BAUR stable.

At this point, we would like to once again thank the trust that the decision-makers at Syna GmbH have placed in our company and look forward to continuing this great cooperation.