Software package for cable fault location, cable testing and cable diagnostics BAUR Software 4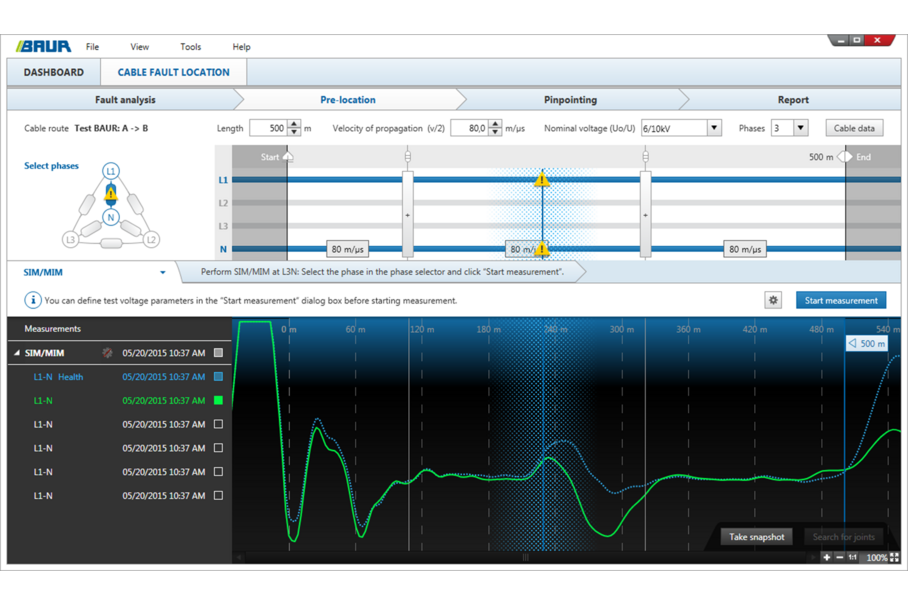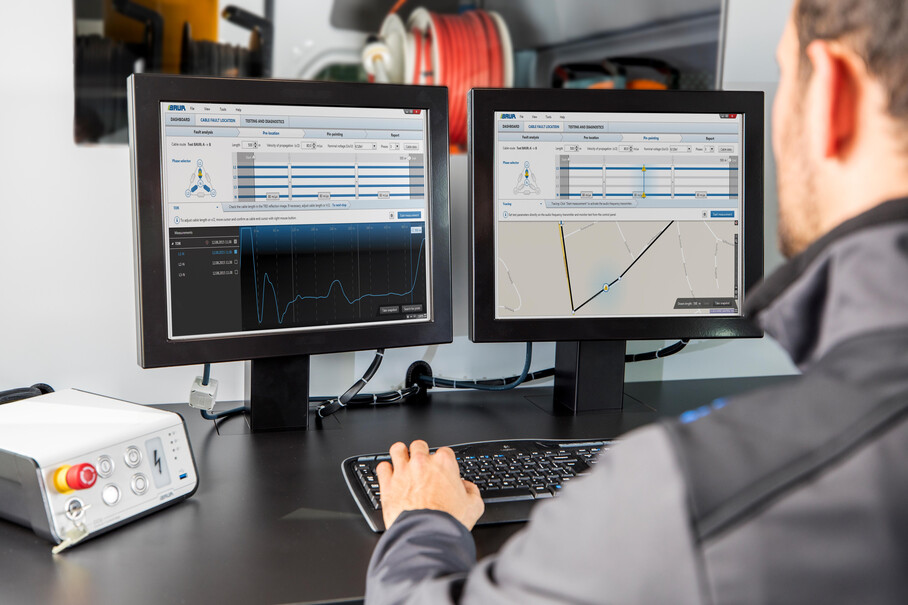 The BAUR Software 4 is a cable fault location, cable testing and cable diagnostics package. It enables efficient maintenance of cable networks in combination with BAUR devices.
Cable fault location
Recommendations for the cable fault location process are generated based on a multitude of factors that link the system, in an intelligent manner, to an algorithm specifically designed for this purpose. Nevertheless, the user is still, at any time, able to override the given specifications of the system and to carry out the measurement process based on his own experience and knowledge. The well-proven and continuously enhanced methods are available for the cable fault location as well as the newly developed Conditioning SIM/MIM method which makes it even more effective and quick to locate wet cable faults that are difficult to detect.
Automatic detection of cable end and fault position
Automatic saving of all measurement data
Storage for more than 100,000 measurements
Interface to GIS databases
Cable testing and diagnostics
The BAUR Software is used in combination with the BAUR test and diagnostics systems for the testing, diagnostic measurement and condition evaluation of medium voltage cables and electrical equipment. Thanks to its innovative operating concept, the BAUR Software provides optimal support to both asset managers and measurement engineers in their work flows, and allows operators to efficiently plan and carry out measurements, as well as precisely monitor the condition of cable networks. Asset management also profits from having standardised sequences throughout the company and a professional and reproducible condition evaluation of electrical equipment, making it possible to devise maintenance and replacement strategies and prioritise specific measures. At the same time, the automated sequences and integrated combination of methods minimise the time required to carry out diagnostics on site. The simple and efficient data management allows comprehensive data acquisition and analysis, along with the distribution of information such as measurement programmes and evaluation criteria to all of the measurement systems in use.
Better decisions based on a comprehensive condition evaluation of the cable network
Saves time on site thanks to automated sequences and report generation
Extremely user-friendly
The new intuitive operational concept
Intuitive modern user interface – no long introduction or familiarisation period is required
Optimal operator support during cable fault location provided by the Smart Cable Fault Location Guide: The special algorithm continuously analyses the current measurement results which it uses to generate optimum recommendations for the user regarding the further procedure required to reliably locate the cable fault.
BAUR GeoBase Map: Unique combination of road maps, including the cable route, cable routes and cable faults displayed on the map, GPS-based system location determination
Cable Mapping Technology CMT: Overview of cable accessories and faults in relation to the cable length
All data on the cable route such as geographic position, voltage level, joints, all measured values, etc. are automatically saved and can be accessed at any time.
Quick and easy compilation of clear and precise measurement reports – with freely selectable company logo, comments and figures of the measured traces.


Other features

GIS interface enables an exchange of cable data between your GIS system and the BAUR system software.
Online support via the Internet: With your permission, BAUR's customer service department can access the computer of your cable test van, identify your problem and quickly find a solution.
Test voltage assistant: The system recommends voltage values according to the cable data and the fault type. The test voltages can be defined according to the user.
Automatic cursor positioning at the cable end and at the fault.
Automatic adjustment of method-related parameters for quick and efficient fault location.
Gentle and safe pin-pointing with the BAUR Remote App